Simple Steps to Movement and Exercise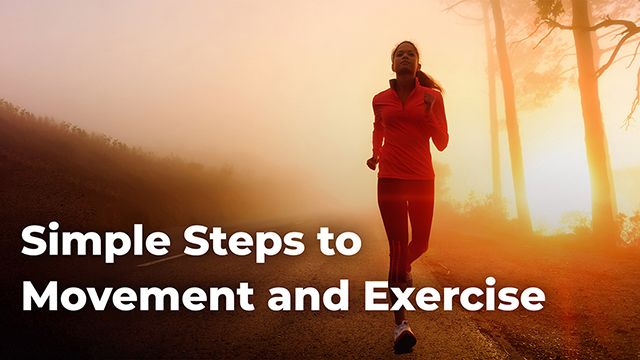 Externally Quality Assured

Level: General Interest

Study time: 30 +

Supported Study

Self-Paced

Course Overview

A short course for anyone wishing to optimize their movement and lifestyle habits to increase their fitness levels.
Certification
Upon successful completion of this course you will receive a downloadable e-certificate of achievement from The Wellness Evolution.

Movement should be approached like life - with enthusiasm, joy and gratitude - for movement is life,and life is movement, and we get out of it what we put into it.
RON FLETCHER
Understand and appreciate the needs of your physical body.
Explore your own fitness levels, and assess how your current lifestyle habits are helping or hindering your current fitness goals
Empower yourself with key knowledge and skills to support your physical health
Learn about what your body's desired activity is and sports preference, the differences between exercise movement and why it's important to approach them differently. Then apply your newly gained knowledge to your own life and fitness goals, learn how to make these changes in a lasting and meaningful way.
Apply your new knowledge and skills too your everyday life

Inspire yourself and others to focus on changing any unhelpful lifestyle habits to help you achieve fitness goals and become a healthy, healthier and fitter you.

Meet the instructor
Nita Whelan
BA (HONS), MA (HONS) HEALTH & WELLNESS COACH AND
EQF LEVEL 4 PT & FITNESS INSTRUCTOR.
YTT 200. Pilates and Zumba.
Nita has a Bachelor Degree (Hons) from DCU in International Communication and Spanish and a Masters from DIT in Public Relations. Nita has been working as a Fitness Professional for over 10 years, she is also a Health and Wellness Coach and Creator of Movement Momentum, 'I focus on the importance of movement; incorporating more natural movement into your day to day life.'
Created with